With true online ordering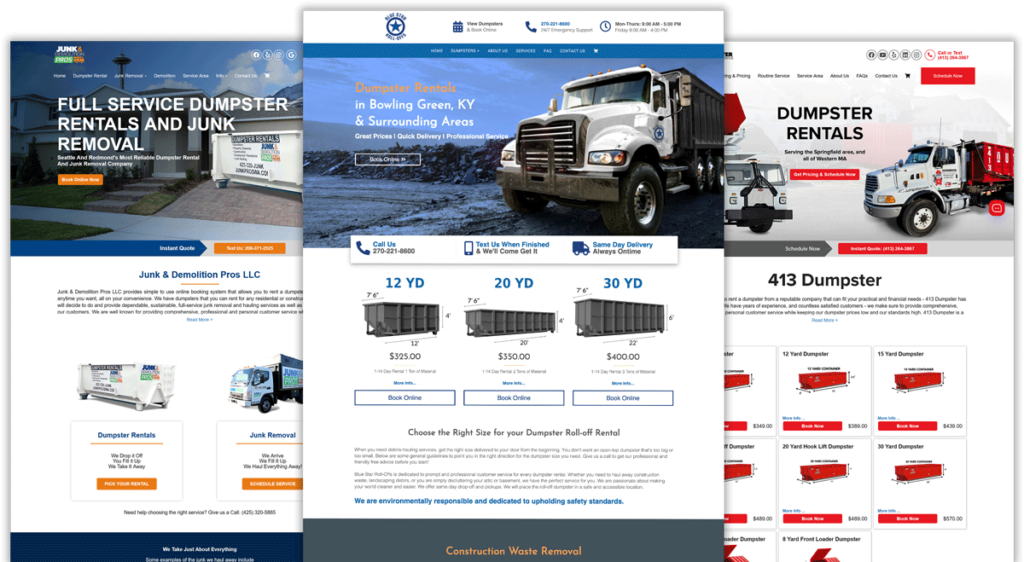 Powerful Clean & Responsive Design
DRS is equipped to handle all aspects of your company's online marketing strategy. The cornerstone of this strategy is your website. When you work with us, you're in luck – dumpster and junk removal websit e design is our specialty.
Website visitors have a notoriously short attention span. The average visitor will spend less than five seconds on your company's website, so you need to catch and hold their attention to keep them there long enough to see why your company is the right company for them. Our approach to dumpster/junk removal website design is centered around this goal. We aim to not only bring viewers to your site, but to encourage conversions by making your company stand out from the thousands of other companies on the web. If your site doesn't catch a visitor's attention, another company's site will. And that company will be the one who handles that visitor's business and reaps the benefits of a professional relationship with him or her, such as his or her referrals to family and friends.
How Do We Build Great Dumpster/Junk Removal Websites?
At DRS, we take a holistic approach to online marketing. We won't just build your website; we'll build your social media channels, your online ad campaigns, and your overall online presence and coordinate them to effectively market your company to its target audience by reaching them in the online spaces they occupy. But at its core, online dumpster/junk removal marketing relies on strong website design.
A great website for your company isn't necessarily a great website for another company. Although there are certain elements that are always parts of strong website design, such as a clean, intuitive layout and SEO-optimized copy, your company has needs and strengths that other companies might not. For example, your company might receive a lot of media coverage that you want to highlight. In this case, our website design team would make it a priority to feature recent headlines about your company on its homepage.
Our team will take the time to understand your practice before it begins building your company's website. Strong website design highlights the individual talents of a company's members, rather than only focusing on the strengths of the company as a whole. We find out what sets your company apart from others in specific areas, such as certain specializations within your area of expertise. For example, you might be a dumpster/junk removal company that has certain sized dumpsters that other companies don't, or maybe you offer one-of-a-kind junk removal services that your competitors don't offer. Once we know who you are and what you offer to your ideal customers– and your company could have more than one type of ideal customer– we design a website that showcases your company's strengths in an appealing, easy-to-use package.
Good Dumpster/Junk Removal Website Design Involves SEO and CRO
Good website design is more than just making good-looking websites. It is the process of making those websites functional. The goal of your company's website is to encourage potential customers to directly contact your company through your contact form or by calling the company directly. Educating your potential customers about your services,  what you have to offer to each of them, and creating a friendly, conversational image of your company and its members, can also find their way into your website design, but overall, the goal is conversions. This is why we use multiple conversion rate optimization (CRO) strategies to encourage your visitors to take action. The strategies we employ include A/B testing, the use of CRO copy, and data collection to determine where your customers are, what they need, and how they want their needs to be met.
But what good is a website if potential customers can't find it? A website that can't be found is a pretty useless website, which is why we employ various search engine optimization (SEO) strategies as part of our approach to website design. These include using relevant keywords in page titles, bodies of text, and the website's metadata to ensure that search engine spiders can find it. If you're not sure about what a search engine spider is or what it does, don't worry. During your initial consultation with a member of our DRS website design team, we can go over everything we do and how each part of our strategy will aid your company's website.
Dumpster/Junk Removal Website Design Involves Multiple Elements
To do a dumpster/junk removal website design well, you've got to think about all the pieces of a well-designed website and how they work together. Think of it like a puzzle or a game of Solitaire: a move that looks like a good choice at first might actually hinder another move later on, keeping you from completing the puzzle. Our team draws upon its years of experience in the realm of dumpster/junk removal website design to build functional, engaging websites. Be prepared to discuss all of the following with our website design team during your initial consultation:
CRO;
SEO;
Your site's layout;
Your mobile site and your desktop site;
Responsive elements on your site;
The use of graphics and text on the site; and
Website security.
We are here to answer the questions you have about web security and the steps that we will take to protect your site from malicious users. Dumpster/junk removal website design is not a one-time issue to face and forget about – it is the ongoing maintenance of your company's website to ensure that it is secure against new threats, compatible with new browser versions and new devices and that it continually portrays your company in an accurate manner that will encourage visitors to take steps to start working with your company.
Speak with a DRS Software Advisor