Search Engine Optimization

Dumpster Rental SEO Company
The demand for dumpster rental services is on the rise as more contractors and property owners rent dumpsters of varying sizes to handle their projects. In a recent report from IBISWorld, the value of construction is expected to continue growing, thereby generating more demand for dumpster rental providers which as a result will increase revenue for the dumpster rental industry. It also stated that the dumpster rental industry in the US boasts a $490m market size with only 318 businesses. If this is indeed the case, more companies and individuals will be looking to get into this industry in a bid to get a piece of the market share.
As a dumpster rental provider in this fast-growing industry, this is the best time to be more innovative with your strategies and position your company as one of the major companies in the dumpster rental space. Today, most contractors and property owners tend to do most of their research online when looking for a dumpster rental company to handle their waste removal projects and to ensure your prospects find you online you need an SEO company.
How SEO Can Help Your Dumpster Rental Service Business?
As a business owner, maintaining a steady flow of high-quality leads is the lifeblood of your dumpster rental business, and this is the major reason why many dumpster rental businesses have failed in their first two years.
Traditional marketing such as cold calling and relying on customer referrals alone doesn't cut it and has also become less effective in driving leads as many individuals and organizations tend to use search engines to find essential products and services they are interested in.
The role of SEO or search engine optimization is to improve your search engine rankings by driving more leads to your website. Dumpster rental search engine optimization will make your website visible in the search engine result pages (SERPs) and put your services in front of the right audience. This is one of the most effective ways to boost your online presence and gives you the leverage to maximize your lead potential.
DRS is a top dumpster rental SEO company. Our dumpster SEO campaign is designed to generate more qualified leads for your business and increase your revenue. Over the years, our team of dumpster rental SEO experts has provided remarkable results for several dumpster rental service providers. We create solutions based on your specific needs and provide data-driven insights to help you become a dominant force in your market.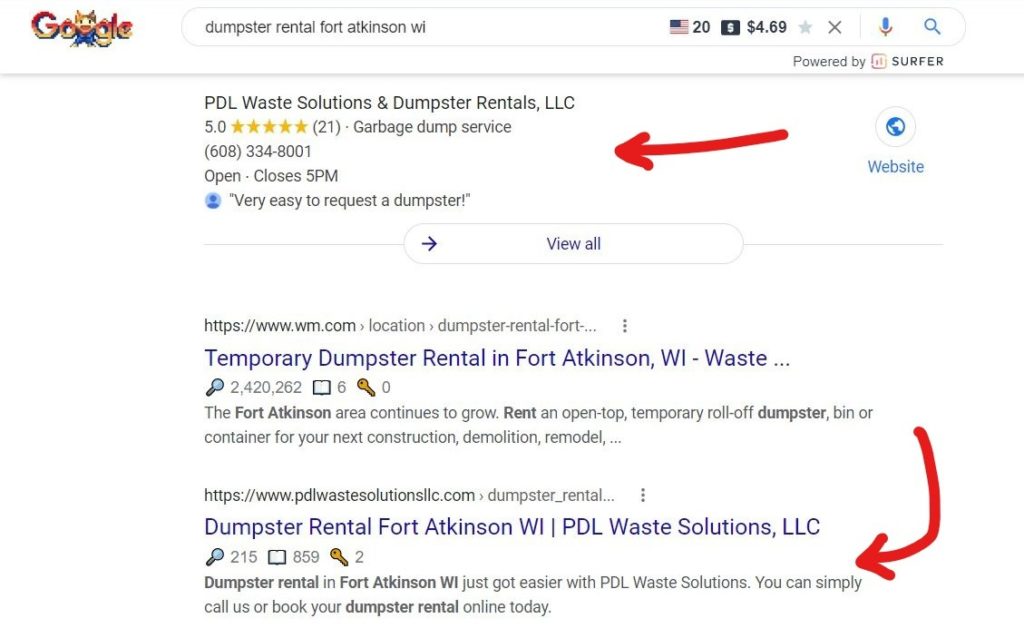 Dumpster Rental SEO Services
The main focus of a dumpster rental provider is serving clients and our dumpster rental SEO services can help you grow your base. Our dumpster SEO experts can help you get more customers and stay ahead of your competition by employing ethical SEO principles to move your website up the search engine result pages. Here are some of the dumpster SEO services we offer our clients:
Keyword Research & Strategy:
Our dumpster SEO experts perform advanced keyword research to determine the best keywords for your campaign and optimize them accordingly. We identify the major keywords your prospective clients are using to find dumpster rental services in your location and ensure you rank for those appropriate, highly relevant search terms that will drive qualified traffic to your website.
Link Building:
Building an authoritative backlink portfolio is one of the major ways to solidify your search engine rankings. DRS dumpster SEO experts build quality backlinks to boost your website traffic and get your services in front of the right audience. Our premium link building strategies will ensure you outrank your competition and get more customers to your business.
Content Writing:
To rank high in the search engine result pages you need well-researched, and SEO-Optimized content. DRS dumpster SEO company has a team of talented and experienced writers, creating engaging, relevant, and optimized content to help you rank high on relevant search terms and attract more customers to your business through high-quality content. 
On-page SEO:
To ensure you stand the best chance of ranking high for your relevant keywords, our dumpster SEO experts perform in-depth On-page SEO on your website. This process includes keyword optimization, updating your website structure, providing keyword-rich title tags and metadata, and other in-depth site audits, in order to boost your website search visibility and user engagement.
Local SEO:
Dominate your local search result and drive more leads to your business with the help of our local dumpster SEO professionals. Our local SEO strategy covers relevant online listings and citations, social outreach, and more. We also claim and optimize your Google My Business (GMB) listings on specific towns, cities, regions, and states you serve. This helps to maximize your local visibility and ensure that prospective clients find you.
Entity Stacking:
Google entity stacking is a way to help increase your website's rankings in terms of promotion and search results. … These include google.com, youtube.com, gmail.com, docs.google.com, etc. The idea is to take advantage of the link signals these properties generate with each other in an organized or strategic manner.
Franchise SEO:
Do you run a multi-location dumpster rental business? DRS dumpster SEO experts also specialize in franchise SEO and will help to list your different locations in Google maps and directory pages, and also ensure each location ranks for the location-based keywords by optimizing your content and implementing our franchise SEO strategies to attract more leads to your business.
Technical SEO:
The easier search engine spiders can crawl and index your website without any issues, the better your chances of ranking. Our dumpster SEO team works closely with our web developers to identify any issues that will likely be affecting your rankings such as low page speed, duplicate content, unresponsive website, and to maintain your website's overall performance.
Landing Page Conversion Optimization:
At DRS, we don't just focus on leads, our strategies are geared towards increasing your ROI. Our dumpster rental SEO experts analyze your websites to eliminate the possible factors hindering your conversions. This will help to improve your conversion and achieve your marketing goals.
Our dumpster rental SEO services are designed to strengthen your online presence and outrank your competitors by improving your search results. We have an experienced team of SEO experts ready to take your campaign to the next level. Partner with us today and we'll help you to improve your rankings and outperform your competitors!
Why Choose DRS as Your Dumpster Rental SEO Agency
SEO is one of the most effective ways to establish your online presence and improve your ROI. As more individuals and organizations utilize the internet to find local dumpster rental providers, you need an actionable SEO strategy to stay ahead of the curve. However, to achieve this result, you need to ensure you are partnering with a result-oriented dumpster SEO company.
DRS is a reliable dumpster SEO company. Our dumpster rental SEO services are designed to not only improve your search engine rankings but also to generate more qualified leads and increase your ROI.
Here's what you can expect when you partner with our dumpster rental SEO agency:
Dumpster Rentals SEO Experts
When you entrust your dumpster SEO campaigns with our team, you can have peace of mind as we are a result-oriented SEO Agency with the sole goal of delivering outstanding results to our clients. Our team is composed of SEO specialists, strategists, content creators, and web developers, that work together to deliver quality SEO services.
Measurable Results
Just like Peter Drucker, we believe that whatever you can't measure, you can't improve. Before we get started, we, first of all, determine your business objectives, expectations, and key metrics to enable us to keep track of our progress and improve the results.
Data-driven SEO Strategies
We are a data-driven dumpster SEO agency, and that's why we utilize the most reliable, industry-leading software and tools to ensure we are generating accurate data and making informed decisions that will enable us to work towards achieving your desired results.
Transparent & Client-Focused
We provide transparency every step of the way. We provide our clients with complete and honest reports on their campaign performance and we make sure they have a clear understanding of any solution we implement.
DRS provides proven dumpster SEO services to junk removal businesses and our services are guaranteed to help grow your business and increase your ROI. Partner with us today and let's work together on achieving your desired result and give you the edge you need!
Speak with a DRS Software Advisor